The coupling, between trailer and towing vehicle, takes place via COUPLING HEAD, safety components that must follow precise regulations (Regulation No 55 of the Economic Commission for Europe of the United Nations (UN/ECE)).
Couplings produced by AXF are class b50-x.
Couplings are available with q50-60 and ø35 connection for load capacities up to 1000kg, ø35 connection up to 1500kg, and ø50 connection from 1500kg to 2800kg.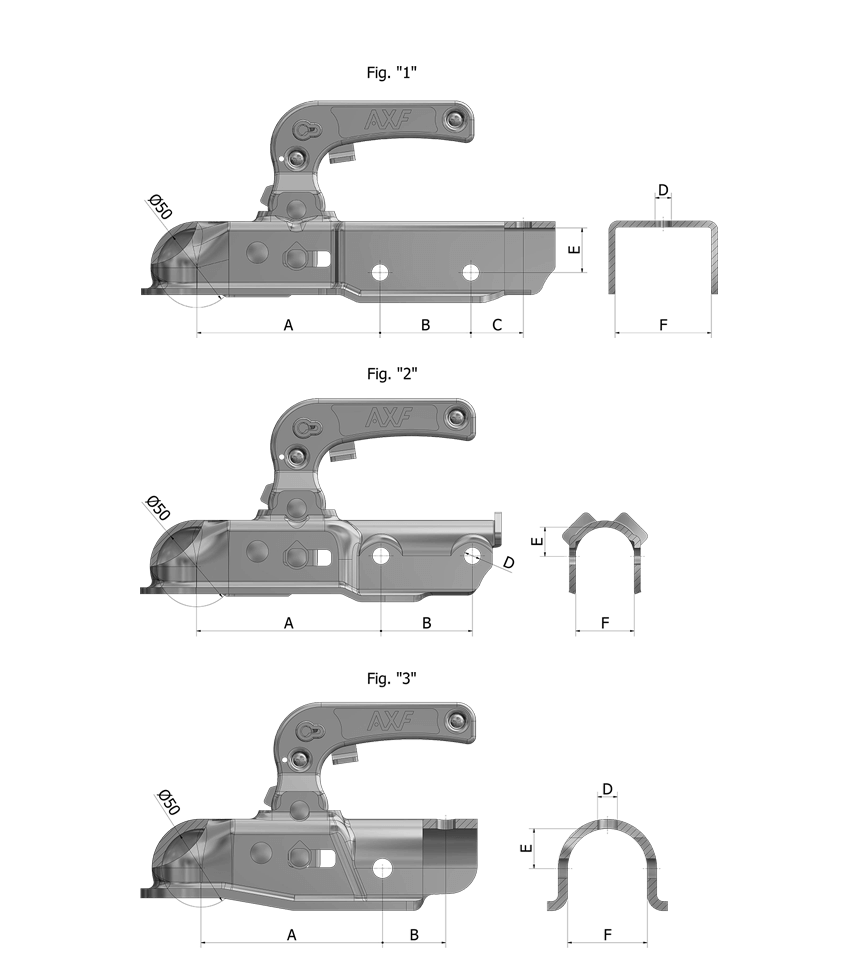 CODICE
CODE
TIPO
TYPE
FIG.
PORTATA
LOAD [Kg]
"S"
[Kg]
"D"
[Kn]
A
[mm]
B
[mm]
C
[mm]
D
[mm]
E
[mm]
F
[mm]
N. OMOLOGAZIONE
APPROVAL NO.
7110A06236
GE 10-5
1
1000
75
9.6
115
90 (B')
/
10.5
/
50.5
55R-016475
7110A06237
GE 10-6
1
1000
75
9.6
115
57
33
10.5
28
60.5
55R-016475
7110A06238
GE 10-T

2

1000

75

9,6

115

57

/

10,5

18,5

36,5

55R-016475

7115A06239

GE 15-T

2

1500

100

14,1

115

57

/

10,5

18,5

36,5

55R-016477

7128A06240

GE 25-T

3

2800

120

25,26

115

40

/

12,5

25,25

50,50

55R-016476